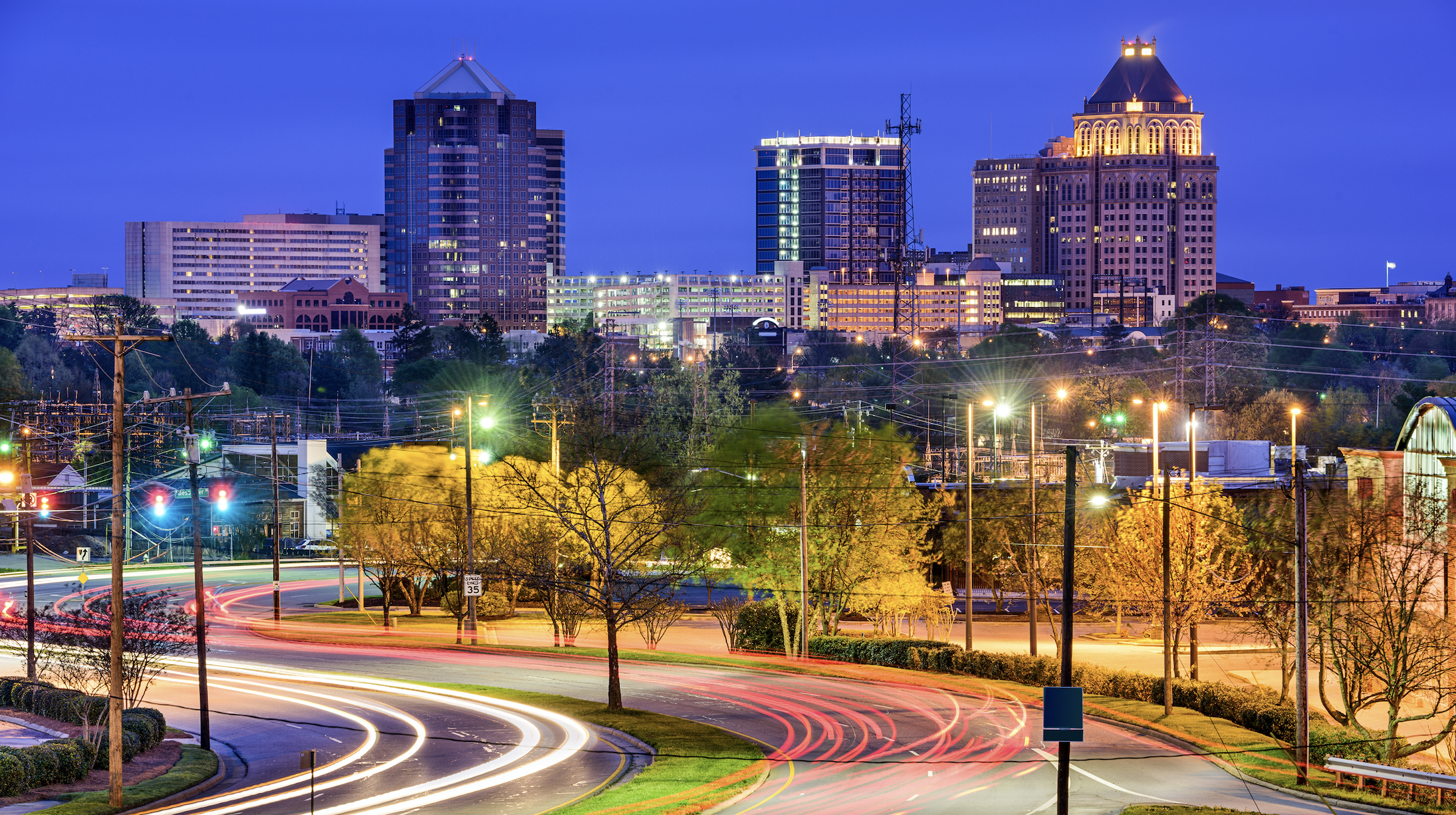 Greensboro, North Carolina, is one of those places that's big enough to have everything you need but small enough for you to regularly bump into people you know. People who live here love it and say they have no reason to leave. Those who do leave will often return home to Greensboro to raise their families.
Greensboro is part of the Piedmont Triad (which also includes Winston-Salem and High Point) and is nicknamed the "Gate City" with good reason: It's a short jaunt to and from all the major cities in North Carolina. Spend a day in the Blue Ridge Mountains to the west or head east for a beach weekend.
There is no shortage of arts, entertainment, recreation, shopping and restaurants to keep locals busy. Greensboro is home to the region's largest hospital, and it boasts 170 well-kept public parks and gardens. A broad range of neighborhoods offers a diverse array of homes to satisfy different tastes, and a strong sense of community makes North Carolina's third-largest metro area feel like a small town where the residents are neighborly.
Source: realestate.usnews.com
About North Carolina
If you're looking for a new home, you've come to the right place. The experienced team at NC Pro Realty Group is your best choice for a realtor in the area.
If you don't live in North Carolina yet and you're considering making it your home, you're going to love it.
2 Million New Residents: Between 1990 and 2010, North Carolina gained more than 2 million new residents due to migration.


5th Largest Population Increase: From July 1, 2017 to July 1, 2018, the state's population increased by nearly 113,000 individuals. This marks the third consecutive year that the state population has grown by more than 100,000 in a single year. Among the states, North Carolina had the 5th largest numeric increase since 2017.


NC Grows Faster than National Average: With a growth rate of 1.13% since 2017, North Carolina continues to grow faster than the national average (0.6%) and was the 10th fastest-growing state.



Huge Growth Since 2010: Since 2010, North Carolina's population has grown by nearly 850,000 residents, an increase of 8.9%.


Largest Net In-Migration from CA, NY, NC: According to detailed data in the 2017 American Community Survey (ACS), North Carolina had the largest net in-migration from New York, New Jersey, and California, with net gains of over 10,000 residents from each state.


1,000,000 New Residents in 10 Years: From 2010 to 2019, North Carolina gained over 1,000,000 residents.
Although reasons for migration vary widely, they can be put into a few major categories:
Work: People move to NC because they received a new job or were transferred, they want an easier commute, they retired, or because they are unemployed and looking for work.
Family: People move to NC due to household changes, such as a divorce or separation, or children are moving away from their parents to establish their own households.
Housing: People are moving because they bought a home, wanted nicer housing or a better neighborhood, or are looking for more affordable housing.
Other: People move to NC may be starting college, for health reasons, because they want a change of climate, or for non-voluntary reasons, such as natural disasters or foreclosures.


There are lots of great homes available and we'd love to take you for a tour. If you see a home (or 20) that you like, please reach out and we will make plans to meet you and show you around.