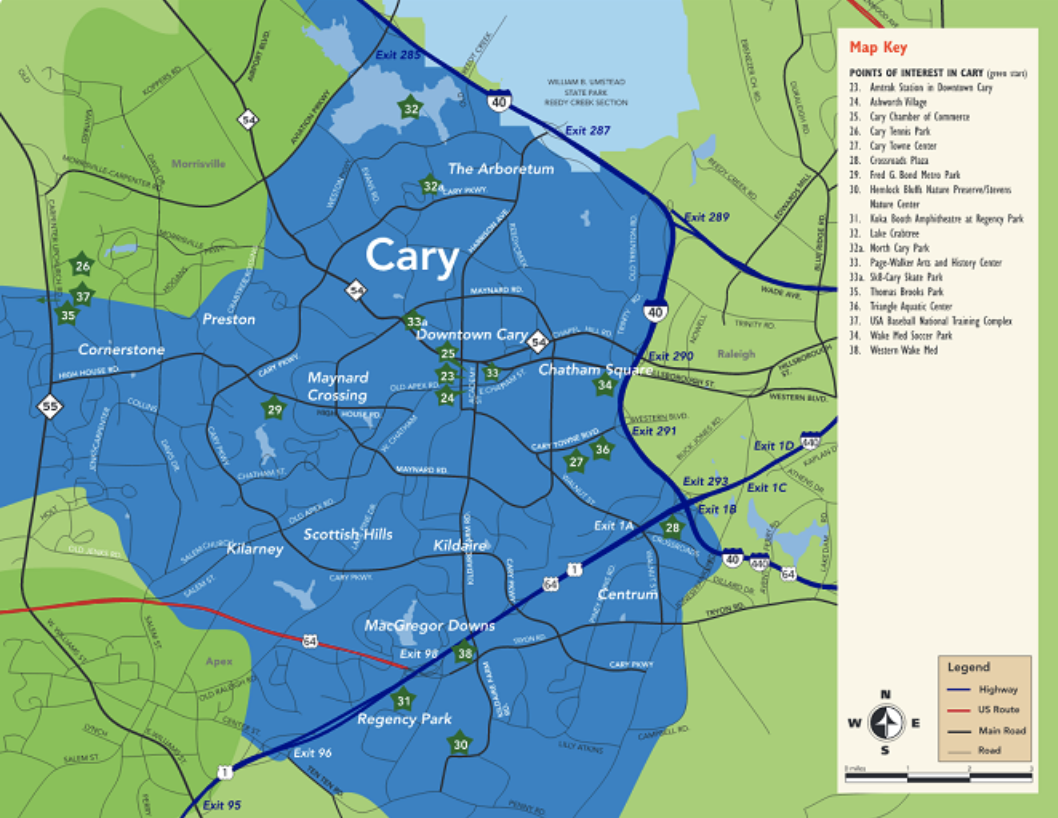 (Source: Town of Cary)
Cary is a thriving community in the heart of the Triangle area of North Carolina, between Raleigh and renowned Research Triangle Park. The Triangle area is repeatedly ranked among the top regions in the country to live or work, to find a home or start a business, to raise a family or retire.
Money Magazine named Cary, North Carolina, the hottest town in the East and one of six Hottest Towns in America. Cary was also recognized by Money Magazine as one of the Best Small Cities in America, ranking an impressive fifth on one of the magazine's annual lists of Best Places to Live. As noted in several major publications, Cary's accolades are numerous.
Cary Embraces the Best of City Life
On the whole, Caryites are a hard-working group with one of the highest median household incomes in the state. And being no further than 20 minutes from major universities such as Duke, North Carolina State, and the University of North Carolina, it's no wonder that education is an important part of Cary life. More than two-thirds of adults hold a college degree. About 97 percent of citizens have access to the Internet in this, the Technology Town of North Carolina.
Our Sense of Security
Cary continually ranks as one of the top 20 safest large cities nationally and the safest in the Southeast. Its Police and Fire departments and Emergency Medical Services are nationally accredited.
Livability
Tree-lined streets and well-groomed subdivisions and office parks show Cary has grown the right way.
Vibrancy
Cary is home to world class businesses and national retail stores. Our fast-growing Parks, Recreation and Cultural Resources program has something for everyone, regardless of age or interest.
Diversity
School-age children comprise nearly a quarter of Cary's population. Yet people of retirement age are the fastest-growing group in Cary. Nineteen percent of townspeople were born in another country, and the Asian population - Cary's largest minority - tripled during the 1990s.
A Progressive Approach to Challenge
Cary is proactive. We're conserving drinking water by reclaiming treated wastewater for irrigation and industrial processes; we're preserving open space; we're integrating sustainability into all that we do; and working with citizens and county leaders to make our schools even better.
Yet we've remained the Town of Cary while growing to more than 155,000 people.
At the Town of Cary, we focus every day on enriching the lives of our citizens by creating an exceptional environment and providing exemplary services that enable our community to thrive and prosper. The mayor's annual State of the Town address keeps citizens informed on how we're doing.
Cary by the Numbers
Population: 163,930 (July 2018)*
Median age: 36.6 years (2010 Census)
GPS Location: (Chatham and Academy streets) 35.7873 -78.7812

*Population estimate based on the reported number of Certificates of Occupancy issued in the Town.
About North Carolina
If you're looking for a new home, you've come to the right place. The experienced team at NC Pro Realty Group is your best choice for a realtor in the area.
If you don't live in North Carolina yet and you're considering making it your home, you're going to love it.
2 Million New Residents: Between 1990 and 2010, North Carolina gained more than 2 million new residents due to migration.


5th Largest Population Increase: From July 1, 2017 to July 1, 2018, the state's population increased by nearly 113,000 individuals. This marks the third consecutive year that the state population has grown by more than 100,000 in a single year. Among the states, North Carolina had the 5th largest numeric increase since 2017.


NC Grows Faster than National Average: With a growth rate of 1.13% since 2017, North Carolina continues to grow faster than the national average (0.6%) and was the 10th fastest-growing state.



Huge Growth Since 2010: Since 2010, North Carolina's population has grown by nearly 850,000 residents, an increase of 8.9%.


Largest Net In-Migration from CA, NY, NC: According to detailed data in the 2017 American Community Survey (ACS), North Carolina had the largest net in-migration from New York, New Jersey, and California, with net gains of over 10,000 residents from each state.


1,000,000 New Residents in 10 Years: From 2010 to 2019, North Carolina gained over 1,000,000 residents.
Although reasons for migration vary widely, they can be put into a few major categories:
Work: People move to NC because they received a new job or were transferred, they want an easier commute, they retired, or because they are unemployed and looking for work.
Family: People move to NC due to household changes, such as a divorce or separation, or children are moving away from their parents to establish their own households.
Housing: People are moving because they bought a home, wanted nicer housing or a better neighborhood, or are looking for more affordable housing.
Other: People move to NC may be starting college, for health reasons, because they want a change of climate, or for non-voluntary reasons, such as natural disasters or foreclosures.


There are lots of great homes available and we'd love to take you for a tour. If you see a home (or 20) that you like, please reach out and we will make plans to meet you and show you around.