Did people in the Triangle buy homes for the Holidays as a present? You might think so if you look at the data just published for the Triangle housing market.
When we look at December 2019 vs. December 2018, there are some WOW moments, so says the Triangle MLS (Multiple Listing Service):
Showings were up 12%
Listings were up 6%, but the market needs MORE
Pending sales were up 15%
Closed sales were up 25% overall
Closed resale homes were up 31% (wow!)
Closed sales Year To Date vs 2018 YTD were up 6%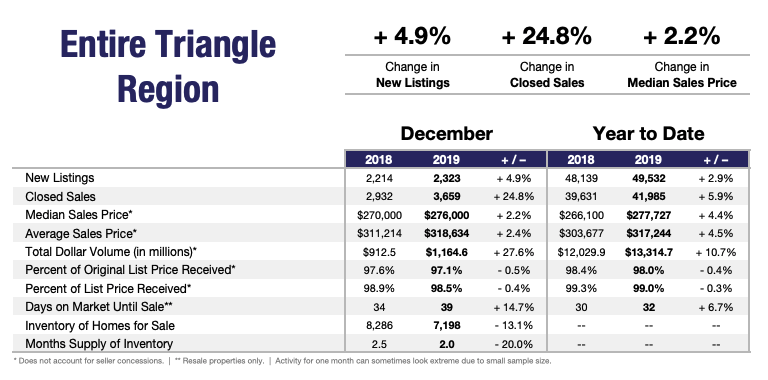 Average home pricing continues to rise, and we need more affordable homes to come on the market to balance this out. It really is a bit too high for our liking in the real estate industry.
Pricing is up 4% overall
Pricing for resale homes is up 8%
The most favorable aspect of homebuying now and into 2020 is INTEREST RATES ARE LOW! Think about this…2019 ended a decade in real estate – mathematically 2010-2019 is 10 years. At the end of 2010, interest rates were 5% and we all thought that was super great. Now, we are seeing 3.5-3.7%. That means most people can afford to buy "more" house.
NC Pro Realty Group studies the market by NEIGHBORHOOD. We have our pulse on what's happening in your own backyard and would love to help you get your home market ready and if you are buying, we can help you buy smart. Contact us at info@ncprorealty.com or call 855-MOVE2NC.