Now is the Time to Sell Your Home in the Triangle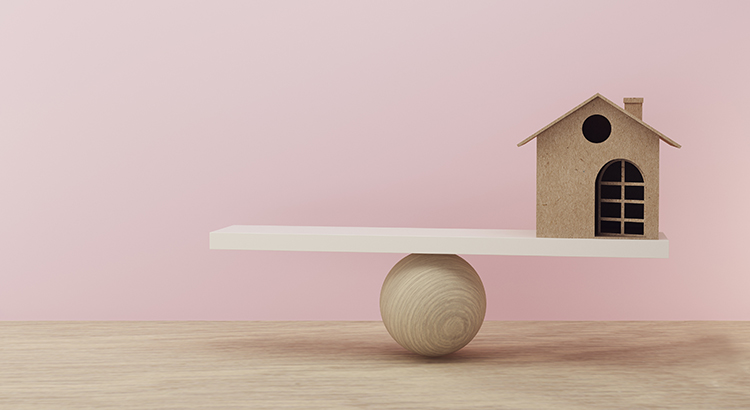 The housing market continued to boom in 2020 and is now positioned for an even stronger year in 2021. Record-low mortgage interest rates are a driving factor in this continued momentum, with average rates hovering at historic all-time lows.
According to the latest Realtors Confidence Index Survey from the National Association of Realtors (NAR), buyer demand across the country is incredibly strong. That's not the case, however, on the supply side. Seller traffic is simply not keeping up. Here's a breakdown by state: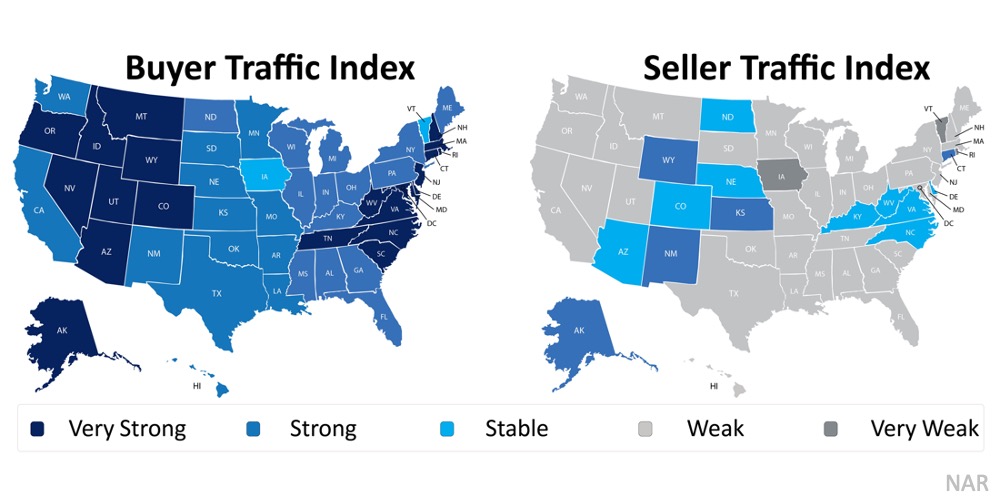 As the maps show, buyer traffic is high, but seller traffic is low. With so few homes for sale right now, record-low inventory is creating a mismatch between supply and demand. Now, more than ever, is the time to sell your home.
In the Triangle area of North Carolina, December is normally one of the slowest months of the year but strong buyer demand across most segments of the market, buoyed by near-record low interest rates, continue to drive a healthy sales pace in the face of a new wave of COVID-19 infections and a softening jobs market. New Listings in the Triangle region increased 20.9 percent to 2,851. Under Contract Sales were up 30.9 percent to 3,198. Inventory levels fell 53.7 percent to 3,587 units. Prices continued to gain traction. The Median Sales Price increased 8.4 percent to $300,000. Days on Market was down 48.7 percent to 20 days. Sellers were encouraged as Months Supply of Inventory was down 59.1 percent to 0.9 months. This is why Sellers are getting top dollar for their homes right now.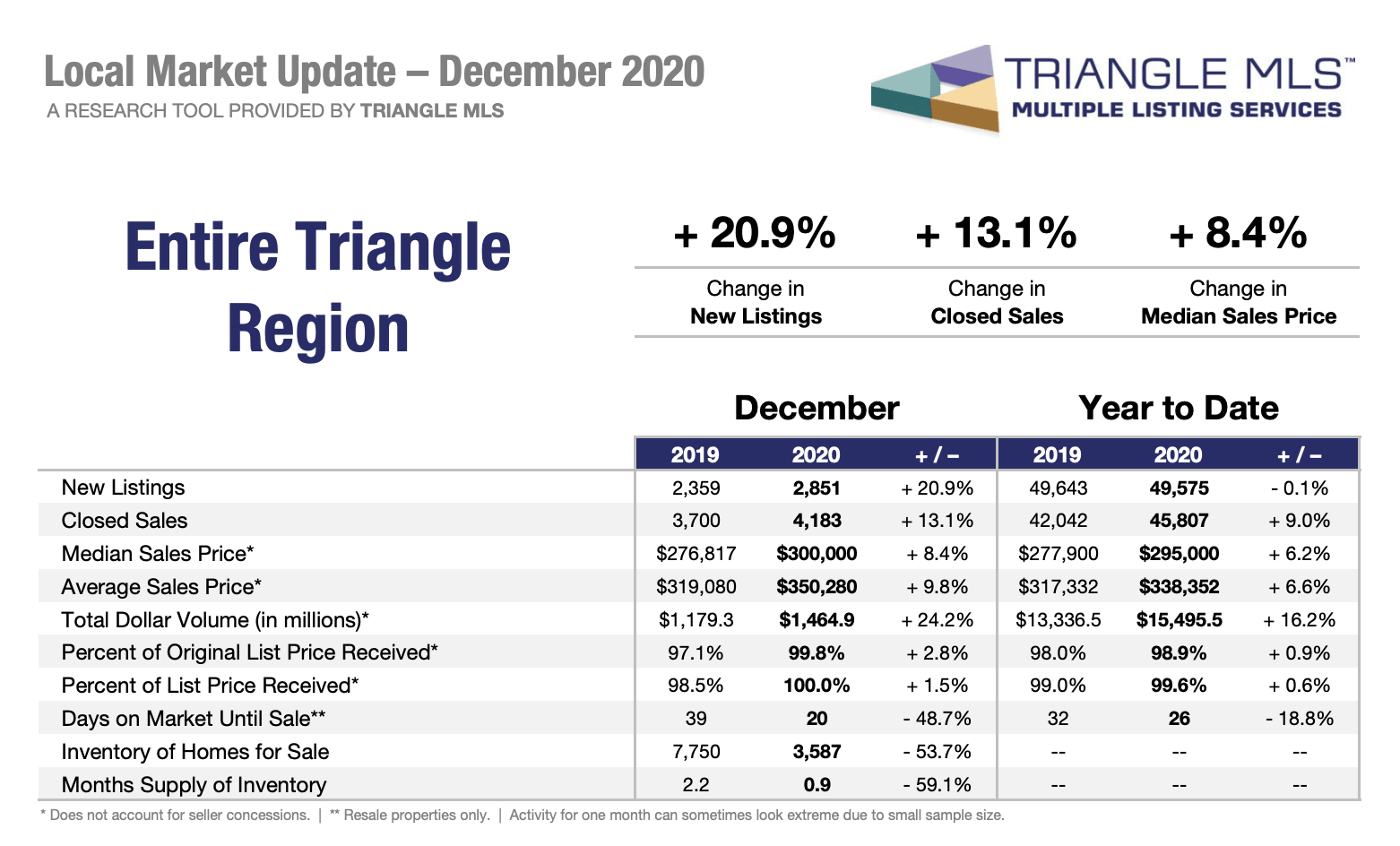 The big news in Wake County is that average home prices has now soard to over $400,000. The percentage of sales price vs. list price received is 100.2%. Sellers are getting above asking price in most cases. The average days on the market is at 18 days and what is most worrisome is that we have LESS THAN ONE MONTH of average inventory on the market for buyers. There is NO BETTER TIME TO SELL!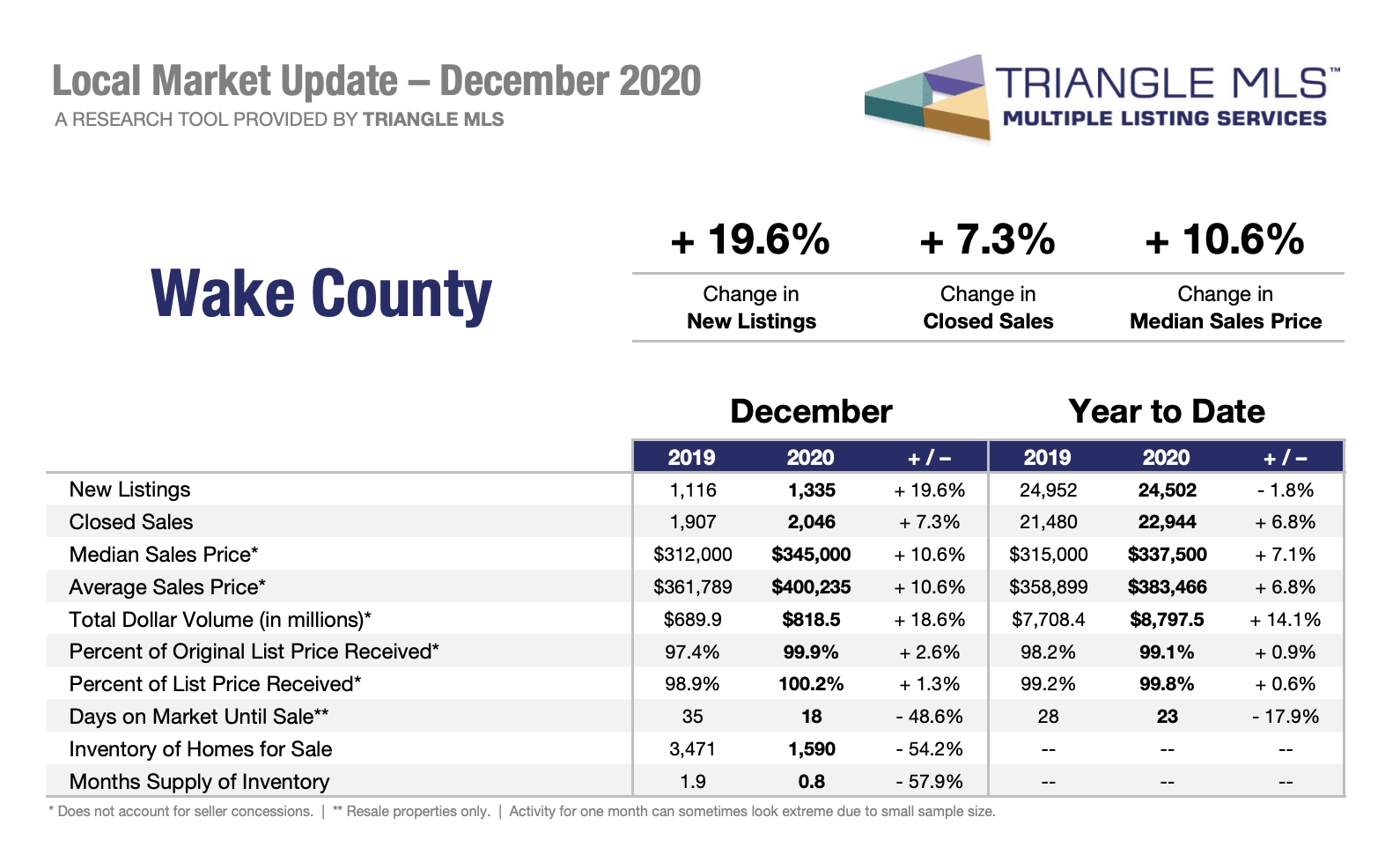 Nationwide, the National Association of Realtors also just reported that the actual number of homes currently for sale stands at 1.28 million, down 22% from one year ago (1.64 million). Additionally, inventory is at an all-time low with 2.3 months supply available at the current sales pace. In a normal market, that number would be 6.0 months of inventory – significantly higher than it is today.
What does this mean for buyers and sellers?
Buyers need to remain patient in the search process. At the same time, they must be ready to act immediately once they find the right home since bidding wars are more common when so few houses are available for sale. Sellers may not want to wait until spring to put their houses on the market, though. With such high buyer demand and such a low supply, now is the perfect time to sell a house on optimal terms.
Bottom Line
The real estate market is entering the year like a lion. There's no indication it will lose that roar, assuming inventory continues to come to market. We want to hear from you NOW if you want to know what your home is worth and want to consider selling! Reach out at info@ncprorealty.com or call 855-MOVE2NC today!