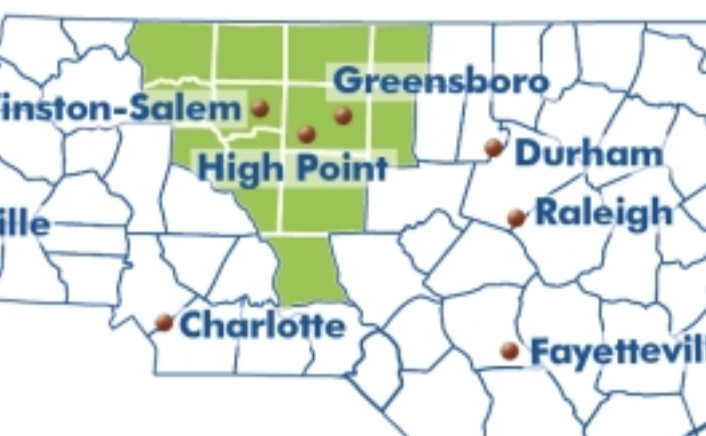 Welcome to the Piedmont Triad Region of North Carolina! The Triad is the area lying between the Atlantic Ocean and the Appalachian Mountains. The Triad is named for the three largest cities in the region: Greensboro, Winston-Salem, and High Point.
Check Out Available Properties In These Triad Cities:
High Point
Counties in the Piedmont Triad Region are: Surry, Stokes, Rockingham, Yadkin,Forsyth, Guilford, Alamance, Davie, Davidson, Caswell, Randolph, and Montgomery.
This vibrant area is a popular destination for those looking to retire or relocate in the Southeast thanks to the robust economy, progressive health care, lively arts scene, and other attractive features.
There are many well-known colleges and universities in the Piedmont Triad with a total enrollment exceeding 60,000. Nine technical and community colleges serve an additional 50,000 students.
Alamance Community College
Bennett College
Davidson County Community College
Elon University
Forsyth Technical Community College
Greensboro College
Guilford College
Guilford Technical Community College
High Point University
John Wesley College (North Carolina)
North Carolina Agricultural and Technical State University
University of North Carolina School of the Arts
Randolph Community College
Rockingham Community College
Salem College
Surry Community College
University of North Carolina at Greensboro
Wake Forest University
Winston-Salem State University
About North Carolina
If you're looking for a new home, you've come to the right place. The experienced team at NC Pro Realty Group is your best choice for a realtor in the area.
If you don't live in North Carolina yet and you're considering making it your home, you're going to love it.
2 Million New Residents: Between 1990 and 2010, North Carolina gained more than 2 million new residents due to migration.


5th Largest Population Increase: From July 1, 2017 to July 1, 2018, the state's population increased by nearly 113,000 individuals. This marks the third consecutive year that the state population has grown by more than 100,000 in a single year. Among the states, North Carolina had the 5th largest numeric increase since 2017.


NC Grows Faster than National Average: With a growth rate of 1.13% since 2017, North Carolina continues to grow faster than the national average (0.6%) and was the 10th fastest-growing state.



Huge Growth Since 2010: Since 2010, North Carolina's population has grown by nearly 850,000 residents, an increase of 8.9%.


Largest Net In-Migration from CA, NY, NC: According to detailed data in the 2017 American Community Survey (ACS), North Carolina had the largest net in-migration from New York, New Jersey, and California, with net gains of over 10,000 residents from each state.


1,000,000 New Residents in 10 Years: From 2010 to 2019, North Carolina gained over 1,000,000 residents.
Although reasons for migration vary widely, they can be put into a few major categories:
Work: People move to NC because they received a new job or were transferred, they want an easier commute, they retired, or because they are unemployed and looking for work.
Family: People move to NC due to household changes, such as a divorce or separation, or children are moving away from their parents to establish their own households.
Housing: People are moving because they bought a home, wanted nicer housing or a better neighborhood, or are looking for more affordable housing.
Other: People move to NC may be starting college, for health reasons, because they want a change of climate, or for non-voluntary reasons, such as natural disasters or foreclosures.


There are lots of great homes available and we'd love to take you for a tour. If you see a home (or 20) that you like, please reach out and we will make plans to meet you and show you around.